Lining the chimney for the stove is a good idea.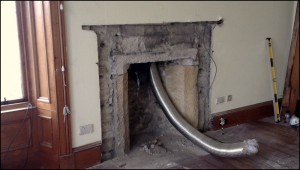 Rather than trusting that the 100+ year old mortar is still making a good seal, a new steel chimney liner gives peace of mind. It also gives the flue a nice regular shape to help the smoke and heat rise freely.
We bought 8m of 316 grade steel liner (150mm diameter). A roofer carted it up to the top of the chimney for me, and I helped pull it down from inside the room. We'll leave it like this until the fire is fitted.